CLICK IMAGE BELOW TO LAUNCH VIEWER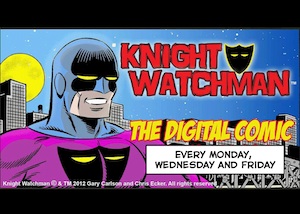 knightwatchman01
It's such a pity that Gary is not very fond of remakes...
Got this one planned for my -sadly rejected- NATIONAL GUARDIANS proposal...
You know where it came from, right? ;-P
CONGRATS, RON C. WILLIAMS!!
...

See More

See Less
J. R. LOFLIN reviews the beginning of THE TIME BOMB/DRAGON saga, the biggest and longest epic in the story of BIG BANG COMICS!!
Some of the very best, hilarious writing by GARY CARLSON.
Hope this is finally reprinted in a TPB -along the rest of the original series-, cause if you haven't read it, you don't have an idea what you missed!! (well, you'll have if you continue reading the review!!)
...

See More

See Less
Subscribe to Our Site via Email